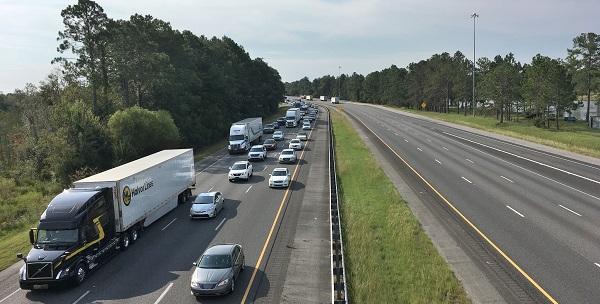 Interstate 75 Thursday morning from the Exit 13 overpass in Lowndes County
For Immediate Release Thursday, September 7, 2017
Contact: Nita Birmingham 229.326.5435 District Four Communications
SW GDOT Hurricane Irma Prep Update... Maintenance Crews Set to Mobilize Sunday
TIFTON – Southwest Georgia Department of Transportation maintenance crews will mobilize Sunday for the expected arrival of Hurricane Irma.
Though there is still a lot of uncertainty about the hurricane's path, at this time the earliest impact expected in South Georgia is late Sunday. Crews will report at 8 p.m. to Tifton and area offices in Colquitt, Lowndes, Coffee, Dougherty and Seminole counties. Keeping employees in their areas will shorten response time once the storm threat has passed and cleanup can begin.
Traffic is picking up as evacuees head this way ahead of the hurricane so construction was suspended Wednesday evening on Southwest Georgia state routes to help ease congestion. There is already heavier traffic on Interstate 75 and the Department strongly encourages drivers to use alternate routes. Information on evacuation routes is available on state maps, online at http://www.dot.ga.gov/DS/Emergency/Hurricane and on the 511 app.
There are no plans to reverse lanes, or contraflow, I-75 traffic, Southwest Georgia DOT District Engineer Ritchie Swindell said. "With three lanes on I-75 north and the alternate routes in our area we should have the capacity to handle traffic," he said.
That's not to say the roads won't be congested. Drivers are asked to be patient, drive cautiously and avoid tailgating. Crashes on major routes will only make congestion worse.
Additional operators with the Coordinated Highway Assistance and Maintenance Program (CHAMP) will be dispatched Friday to I-75 between Macon and the Florida line. They will be running 12-hour shifts around the clock to assist evacuees and help law enforcement quickly clear the interstate when a vehicle is disabled or a crash occurs. Call 511 to request CHAMP assistance.
The National Weather Service in Thursday's noon briefing warned that Irma will remain extremely strong and dangerous even if it loses some intensity. Residents are encouraged to tune in to local media to monitor the hurricane's evolving path and follow the instructions of local authorities regarding any emergency measures.
###