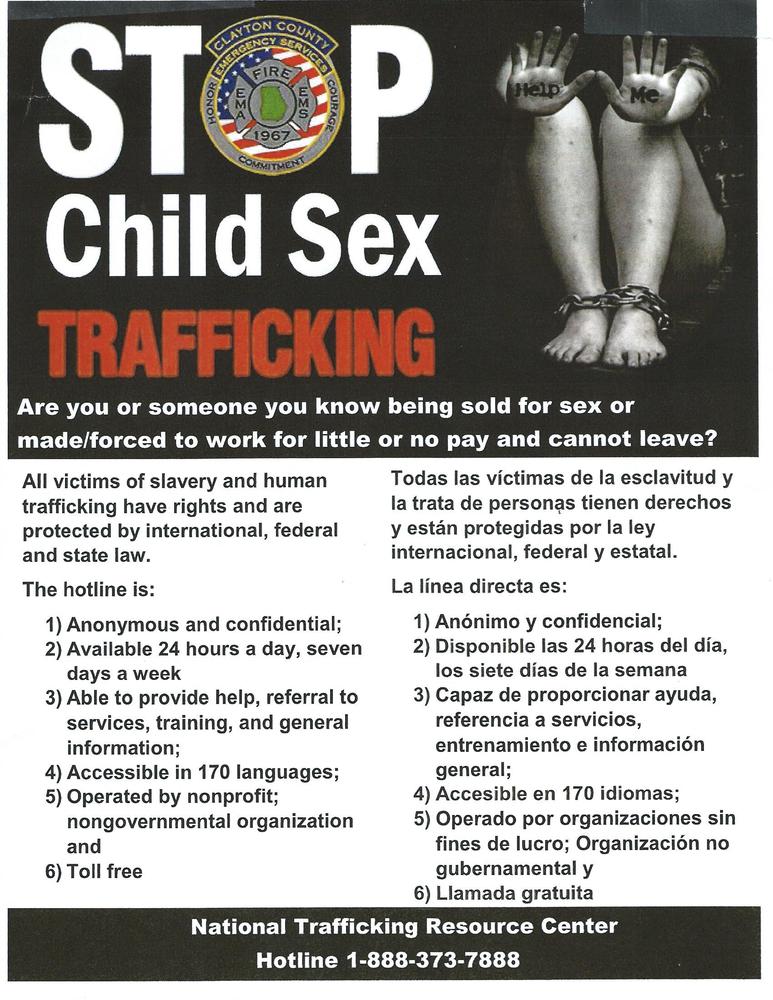 https://gbi.georgia.gov/documents/human-trafficking-notice
Tax Scam
Tift County Sheriff Gene Scarbrough warns citizens to be wary of people calling and telling you that they are with the Internal Revenue Service (IRS) demanding that you pay "back taxes" they claim that you owe. Scarbrough said that during August 2016 there have been several reports filed by citizens of Tift County who have received this type of call. He said that one citizen fell victim to the scam and lost almost $9,500 as a result. Even after sending the money the scam artist did not stop calling, in fact he told the victim that he owned another $6,000. The bogus caller states that you owe back taxes and will give a payment option to avoid warrants being taken for your arrest.
CITIZEN ALERT ** IRS PHONE SCAMS
Sheriff Scarbrough said that the caller will further intimidate the person receiving the call by telling them their property will be seized if they don't "pay". The caller will ask that a money order be sent to a location, demand some type of gift cards to be purchased and sent to them to "pay the taxes" or simply ask for the account numbers on the cards so they can be redeemed. Another local resident was told to get cash and come to the courthouse which fortunately they did not do.
Scarbrough said that according to the IRS website:
THE IRS will never:
Call to demand immediate payment, nor will the agency call about taxes owed without first having mailed you a bill.
Demand that you pay taxes without giving you the opportunity to question or appeal the amount they say you owe.
Require you to use a specific payment method for your taxes, such as a prepaid debit card.
Ask for credit or debit card numbers over the phone.
Threaten to bring in local police or other law-enforcement groups to have you arrested for not paying.
For additional information if you know you owe taxes or think you might owe, call the IRS at 1-800-829-1040. The IRS workers can help you with a payment issue. Remember, the IRS does not use email, text messages or any social media to discuss your personal tax issue involving bills or refunds. For more information on reporting tax scams, go to www.irs.gov and type scam in the search box. If you have been targeted by this scam you can also contact the Federal Trade Commission and use their FTC Complaint Assistant.
FACTS ON FIGHTING FRAUD
IDENTITY THEFT - is when someone steals your personal information, and it can cause serious disruption to your finances and credit history.
Follow these tips to avoid becoming a victim of identity theft:
Safeguard your social security number, PINs, and account numbers.
Properly dispose of personal information - both on paper and electronically.
DO NOT share any personal information unless you're sure with whom you are dealing.
Carefully monitor your banking and credit card statements.
Monitor your credit report from all 3 major credit bureaus - Equifax, TransUnion, and Experian - each year by ordering them from each bureau or by visiting www.annualcreditreport.com.
Consider freezing your credit. This safeguards your credit reports from any new credit and is one of the most effective ways to prevent identity theft. You will need to contact each individual credit bureau to freeze and thaw your credit.
__________________________________________________________________
PREVENT CREDIT CARD FRAUD - Credit card fraud is one of the easiest forms of identity theft. All that a crook needs is your credit card number, name, and address, and you just might become an identity theft victim.
Remember the following:
Keep track of your credit card receipts. Some have your credit card number printed on them - an easy target for a criminal.
Always check your credit card statements carefully for fraudulent charges.
Destroy unwanted credit card offers.
You can also request that the 3 major credit bureaus not sell your name to credit card companies by calling (888) 5OPTOUT (567-8688).
Shred all sensitive documents before throwing them in the trash.
Activate new cards immediately upon receipt and cut up expired cards before discarding.
Review your credit report annually by requesting one for free from all 3 credit bureaus by visiting www.annualcreditreport.com
_________________________________________________________________
INTERNET FRAUD - The internet offers endless opportunities for information-seeking, shopping, and more. Criminals are all too familiar with this and often utilize the internet to take advantage of people.
Use these tips to avoid becoming a victim of their schemes:
Pay for purchases with a credit card, because you are able to dispute the charges if necessary.
Make sure you are dealing with a legitimate company or organization, whether visiting a website or responding to an email. You can check with the Better Business Bureau to be sure by visiting www.bbb.org.
Watch out for risky downloads; only download from websites you know and trust.
DO NOT give information to people promising large sums of money for your cooperation. Offers that seem too good to be true usually are scams.
Make sure the transaction is secure before making credit card payments.
DO NOT share personal information over a public Wi-Fi network.