Bottom Line:
Active weather is expected across the tri-state area today as low pressure moves inland from the Gulf of Mexico before moving across the southeast. Isolated to scattered severe storms with localized heavy rainfall is expected today. Additionally, a high risk of rip currents is in effect through Thursday evening and a small craft advisory is in effect through 11AM ET / 10AM CT today.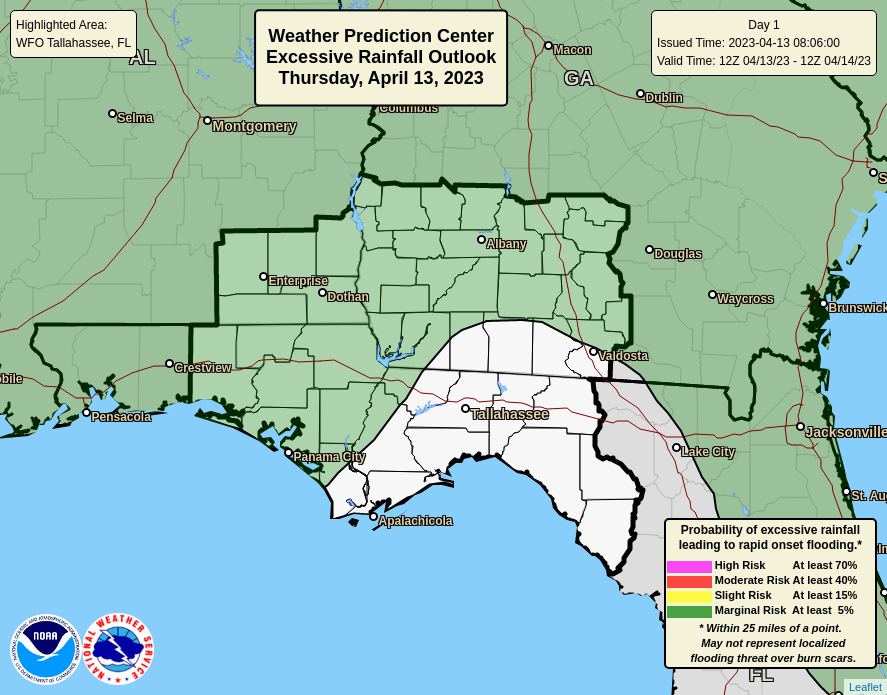 Overview:
Low pressure moving inland from the Gulf will continue to move off to the north throughout the day resulting in isolated to scattered severe storms areawide. Damaging wind gusts and a few tornadoes are also possible. The Storm Prediction Center has increased all of our SE AL and SW Georgia Counties, as well as our northernmost FL Panhandle counties to a Slight Risk of severe thunderstorms. The upgrade to slight was mainly centered around an increased risk of damaging winds. However, a few tornadoes remain possible, especially across SW Georgia and far SE Alabama.
Additionally, locally heavy rainfall and isolated to scattered severe thunderstorms will be possible. Primarily nuisance flooding, such as ponding of water on roadways, poor drainage areas is expected.
For our coasts, a high risk of rip currents remains in effect through Thursday evening. Large seas will lead to dangerous beach conditions with surf heights reaching anywhere from 3 to 7 feet.
For our waters, dangerous boating conditions continue with seas ranging from 6 to 12 feet with winds 20 to 30mph and gusts ranging from 30-40mph with hazardous conditions subsiding as the day continues.