Bottom Line:
The potential for excessive rain has increased across portions of the service area. There is Slight Risk (Level 2 of 4) of Excessive Rainfall for southeast Alabama, the Florida Panhandle, and Southwest Georgia today while the Marginal Risk exists elsewhere across the Florida Big Bend.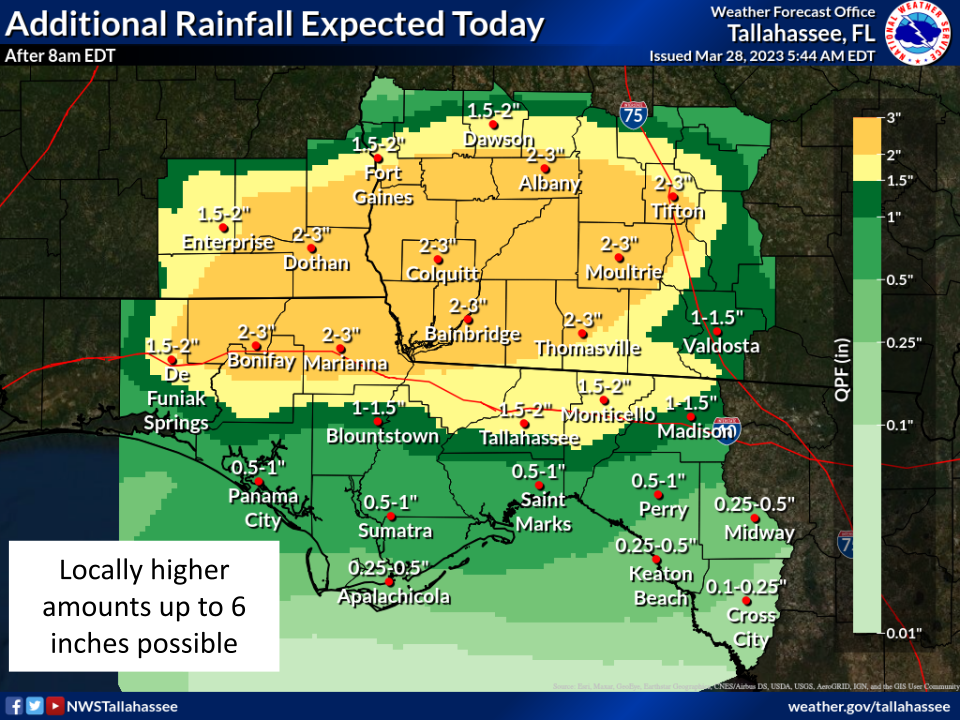 There also remains a Marginal Risk of severe thunderstorms (level 1 of 5) today across all of SE Alabama, SW Georgia, and the Florida Panhandle and Big Bend. Damaging wind is the primary threat. However, a brief tornado or two and marginally severe hail cannot be ruled out.
Overview:
A stationary front currently over central Alabama and central Georgia will begin to move southward into southern Alabama and southern Georgia later today. Numerous showers and thunderstorms will continue to develop along and ahead of the front throughout the day, and a few storms may be strong to severe with the potential for isolated damaging winds. While the tornado risk is a bit lower, it is non-zero, and a tornado or two cannot be ruled out.
Additional rainfall totals through tonight will be around 2 to 3 inches across portions of southeast Alabama and southwest Georgia with lesser amounts elsewhere. However, there is the potential for locally higher amounts should storms begin training, and localized totals of 4 to 6 inches are not out of the question. Totals this high could result in a localized flash flood risk.
The exact evolution and placement of the thunderstorm activity today remains more uncertain than usual.