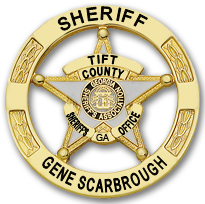 The Tift County Sheriff's office is currently accepting applications for the position of Records Clerk. Applications will be accepted in person at the Tift County Sheriff's Office or via mail as follows:
Tift County Sheriff's Office
P.O. Box 46
Tifton, Georgia 31793
Attention: Rita McGahee
Records Clerk
Department Manager: Capt. Chad Davis
Open Date: 03/02/2023
Close Date: 03/23/2023
Rate of Pay: $ 31,390.84 yr.
Shift: Rotates Quarterly
Hours: 12 hour shifts
Other: Weekend and night hours are required
This position performs clerical duties associated with the management of department records. Data entry skills, exemplary spelling, grammar and accuracy are a must. Position requires a strong secretarial and customer service background. Chosen applicant will be responsible for, but not limited to, multi-line phone operation, providing information to visitors, and general reception duties. Applicant must possess the ability to handle multiple tasks simultaneously in a fast paced environmental and in a calm, courteous manner. Acceptable applicants must have experience in Microsoft office, including Outlook, Word and Excel.
All applications must be able to pass a pre-employment drug screen and physical. Must have a valid Ga Driver's license and high school or acceptable equivalency diploma is required.
Tift County Sheriff's Office is an Equal Opportunity Employer and a Drug Free Workplace