Good morning,
Changes from Last Briefing:
Rainfall totals have increased as the heavy rainfall is now expected to linger into Saturday.
Bottom Line:
A stalling cold front and upper-level low will bring a threat of isolated strong to severe thunderstorms today and Friday. There is also a threat for heavy rainfall and localized flooding today through Saturday. Some rises on area rivers could lead to some minor flooding.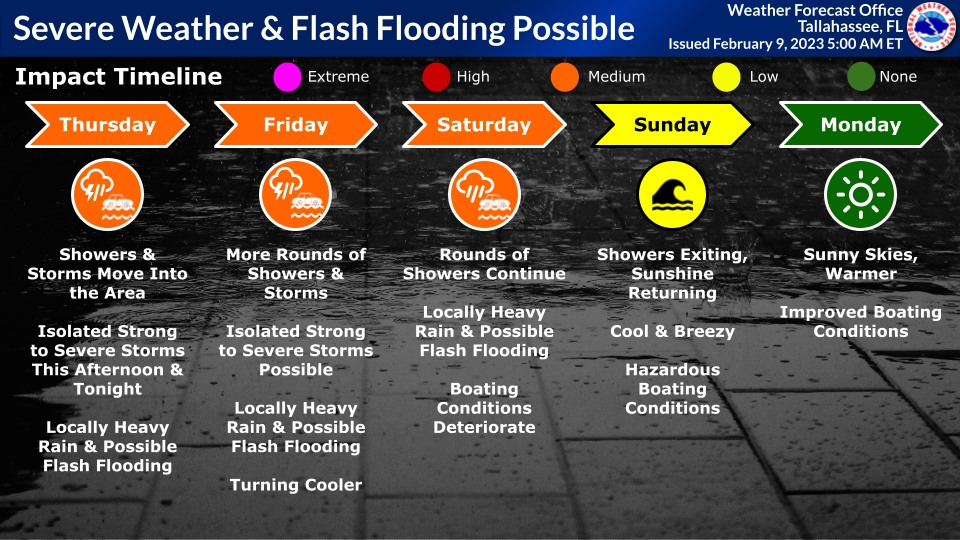 Overview:
Severe Potential: A cold front will move into the forecast area later today before stalling west of the Flint River tonight into Friday. Showers and storms will move into the Florida Panhandle, southeast Alabama, and southwest Georgia later this afternoon into the evening. These storms will slowly fade late tonight while a new round develops offshore early Friday morning and spreads across the entire area through the day Friday. Some storms could become strong to briefly severe with a few damaging wind gusts and perhaps a tornado or two. There is a Marginal Risk of severe weather (level 1 of 5) for much of the area both today and Friday.
On Saturday, there is a non-zero chance that some stronger showers in the afternoon and evening could produce some small, non-severe hail thanks to very cold temperatures aloft. Confidence in this scenario is low, but something to monitor.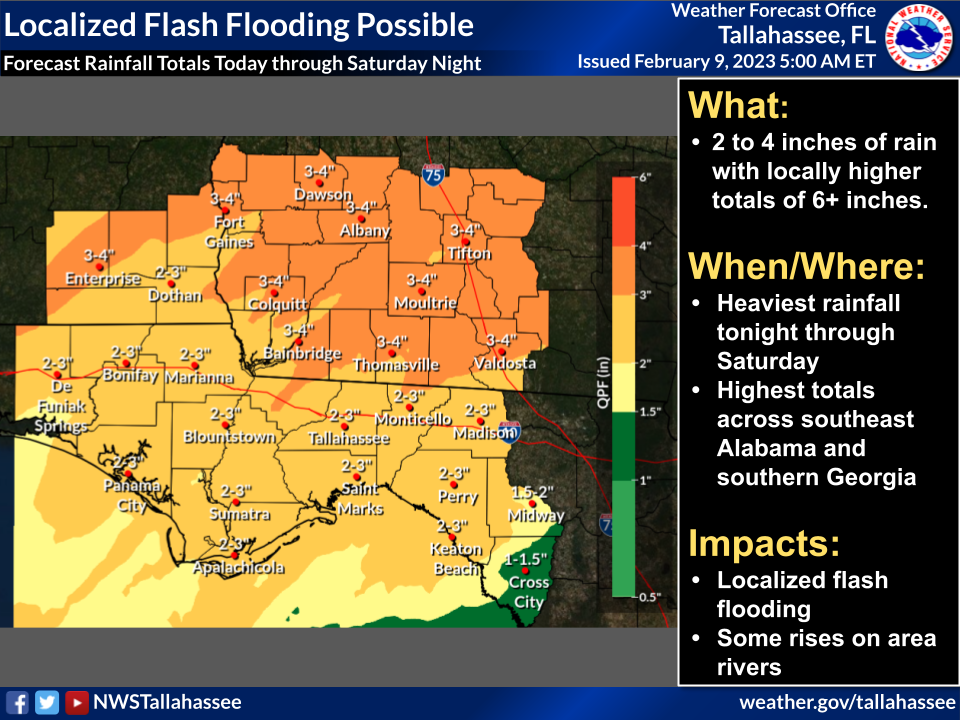 Flash Flood Potential: With the stalling front tonight and Friday, showers and storms may begin training, or moving repeatedly over the same areas. This could pile up rainfall, leading to localized flooding. On Saturday, an upper-level low will slowly move across the area, bringing yet another round of potentially heavy rainfall. Forecast rainfall totals have increased to 3 to 4 inches across southeast Alabama and southwest Georgia, and about 2 to 3 inches across the Florida counties. Some areas could see locally higher amounts of 6 inches or more, which could cause localized flash flooding. There is a Marginal Risk of excessive rainfall (level 1 of 4) for today, Friday, and Saturday across the entire area.
River Flood Potential: We will also have to watch for some rises and possible minor flooding on area rivers, particularly the Kinchafoonee, Apalachicola, and upper reaches of the Pea and Choctawhatchee. However, this is dependent on where the heaviest rain falls over the next few days. Generally, about 4 inches of rain may cause minor flooding on rivers with 6 inches or more resulting in possible moderate flooding.