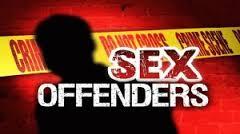 Operation Watchful Eye II
The Georgia Sheriffs' Association has released statewide numbers for "Operation Watchful Eye II."
The Tift County Sheriff's Office participated in this operation, which went from October 24 to October 31, and was designed to conduct residence verifications and compliance checks of registered sex offenders leading up to Halloween.
According to numbers from the Georgia Sheriffs' Association, 92 sex offenders were arrested during this year's "Operation Watchful Eye II" across Georgia for violations of state registration laws.
Preliminary reporting by 85 sheriffs statewide reveals a total of 13,304 registered sex offenders, 252 predators, and 140 homeless sex offenders currently living in their counties. There are 349 absconders for the reporting counties.
The Georgia Sheriffs' Association said that throughout the eight-day operation, 8,457 residence verifications were conducted and 101 new warrants were issued for violations of the sex offender registry law.
In addition, authorities said there were 8 warrants issued for new sex offenses, 24 warrants issued for violation of the sex offender registry, and 28 warrants issued for other miscellaneous new charges.
In Tift County during "Operation Watchful Eye," Tift County Sheriff Gene Scarbrough said his deputies attempted 63 residence verifications in all with 57 registered sex offenders residing in Tift County. All 57 registered Sex Offenders were verified during the operation in Tift County. There were 3 newly registered sex offenders in Tift County during the week of October 24-31. Two registered sexual predators reside in this county as well.
According to the Georgia Sheriffs' Association, the Office of Sheriff is mandated by state law to register sex offenders, and to keep the public informed of where registered sex offenders reside, work and attend school, but prior to this initiative, there has not been a coordinated effort encompassing the resources of all sheriffs' offices in order to illustrate to the public and offenders that this critical mission is being accomplished.
The GSA said the purpose of this statewide effort is to create awareness that sheriffs' offices work collectively, network, and actively engage their office by participating in statewide verification checks and other non-compliant matters, in order to make our state safer.
This is the second "Operation Watchful Eye," with the initiative having started in 2015. Remember, for the protection of your family and neighbors, visit the Tift County Sheriff's Office website or visit the http://gbi.georgia.gov/georgia-sex-offender-registry for more information on the whereabouts of registered sex offenders.