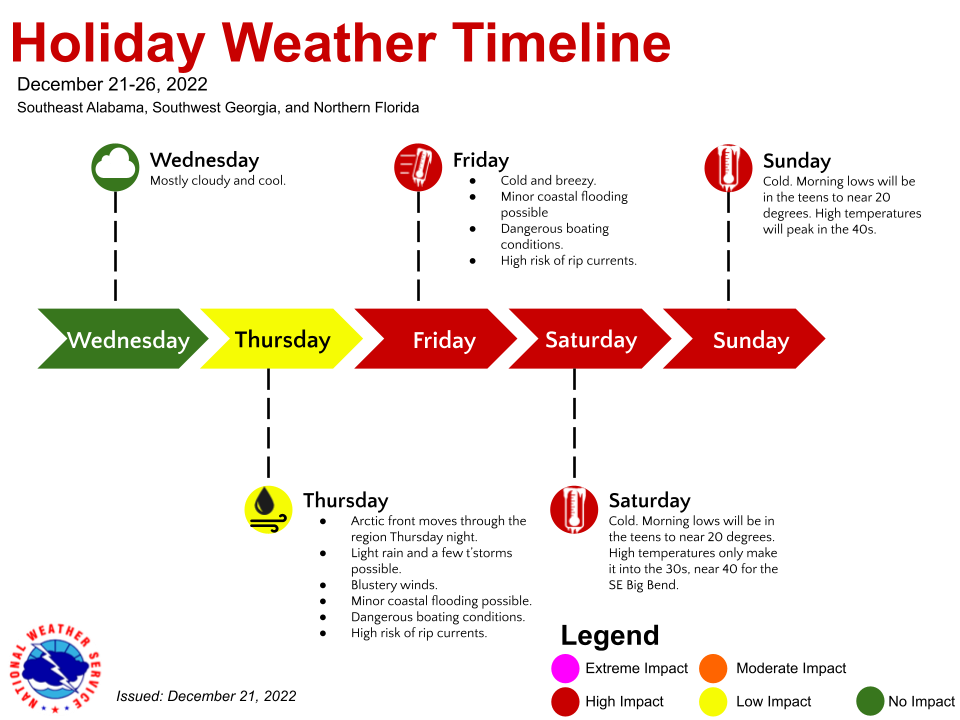 Good morning,
Bottom Line:
Bitterly cold temperatures, strong winds, and dangerous wind chills are expected across the area after a strong arctic front moves through on Thursday night or Friday morning.
Changes:
A Hard Freeze Watch is in effect for Coffee, Dale, and Geneva Counties for Friday morning.
A Hard Freeze Watch is in effect for the entire forecast area Friday night through Sunday morning.
A Gale Watch is in effect for the entire marine area from Thursday evening through Friday evening.
Overview:
Temperatures:
Temperatures will sharply fall behind the cold front early Friday morning with a brief hard freeze possible in southeast Alabama. Temperatures will fall through the rest of the day elsewhere in the area.
Afternoon temperatures will only be in the 30s Friday and Saturday with some 40s possible Sunday.
Low temperatures Friday through Sunday nights will be in the teens to lower 20s area-wide.
Hard Freeze Watches are in effect Friday through Sunday.

NOTE: Hard freeze conditions are not expected during the afternoons. However, temperatures will struggle to get above freezing Saturday afternoon in spots.
Winds:
Sustained 15 to 25 mph with gusts of 30 to 40 mph Friday, decreasing Friday night into the weekend.
Wind Chills:
Wind chills Friday morning and afternoon will be in the teens and 20s, falling into the single digits and teens Friday night into Saturday morning.
Wind chills will become less of an issue Saturday and Sunday as winds subside, though bitterly cold temperatures remain.
Marine & Coastal Impacts:
Minor coastal flooding is possible along the Panhandle and Big Bend coasts Thursday afternoon through Friday afternoon. Water levels of 1.5 to 2.5 feet above normally dry ground are possible along the Panhandle and western Big Bend coast. Water levels of 2 to 3 feet above normally dry ground are possible along the eastern Big Bend.
Gale conditions are likely over the waters beginning Thursday evening and continuing through Friday evening.
High rip current risk along beaches. Surf may approach 6 feet in spots Thursday night and Friday.