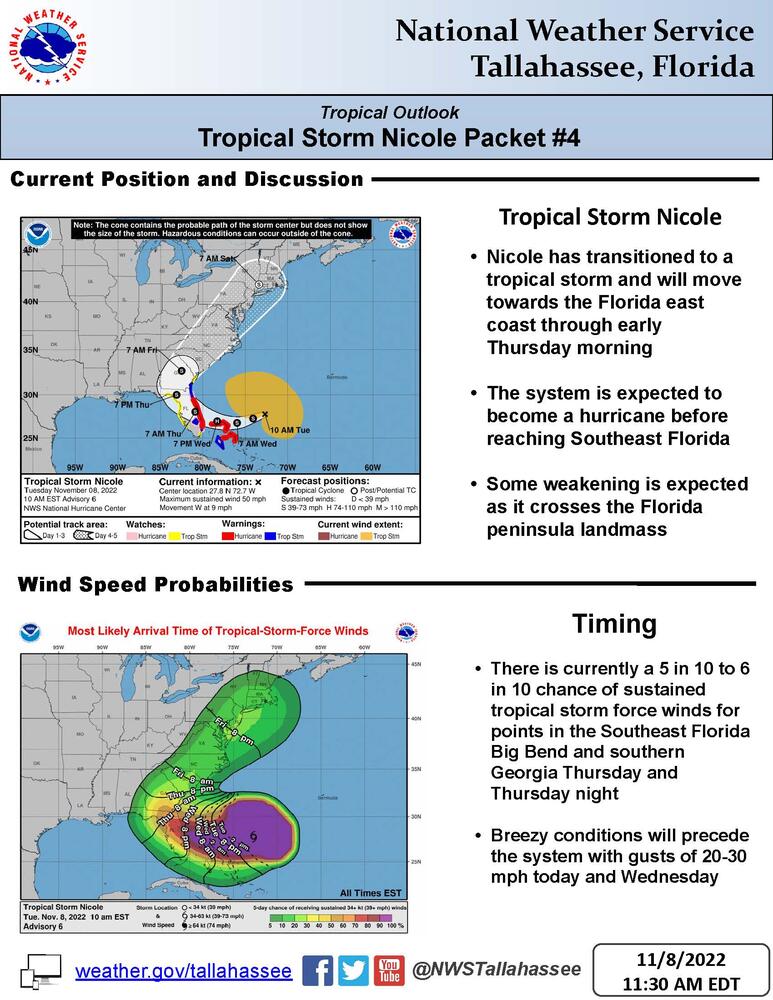 Bottom Line:
Nicole has transitioned to a tropical storm and is likely to affect a large portion of Florida and southern Georgia later this week with gusty winds and rainfall. Tropical storm watches remain in effect with a possible expansion further inland later today or tonight.
Overview:
1. Nicole is expected to strengthen into a hurricane before reaching the Florida east coast late Wednesday night or early Thursday morning.
2. There is currently a 5 to 6 in 10 chance of sustained tropical storm force winds for points in the Florida big bend and adjacent southern Georgia along I75 and a 4 in 10 chance for points in south-central Georgia and the western Florida Big Bend. A tropical storm watch has been issued along the coast from the Ochlockonee River eastward to the Suwannee River where the greatest chance of sustained tropical storm force winds exists. An expansion of tropical storm watches further inland is possible later today or tonight.
3. While tropical storm force winds could begin as early as Wednesday night along the Florida big bend coast, they are most likely to begin on Thursday. In addition, breezy conditions will precede the system with gusts of 20-30 mph this afternoon and Wednesday.
4. Storm surge impacts will depend heavily on the track of the system. A track farther west could increase impacts for Apalachee Bay, while a track further east would result in offshore flow with minimal surge impacts.
5. While some localized heavy rainfall amounts could occur, the recent dry conditions is expected to limit the threat for significant flooding.