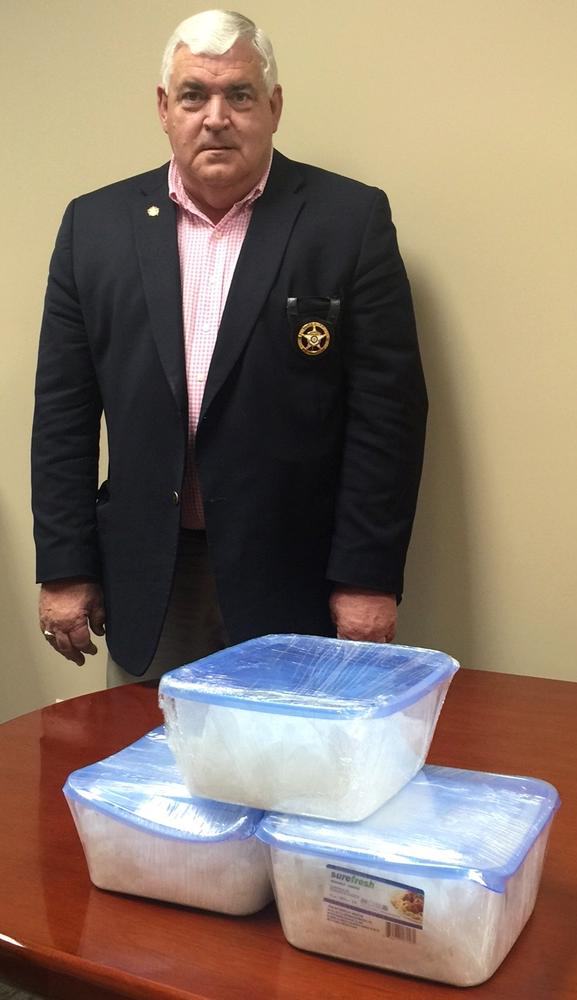 Sheriff Gene Scarbrough shown with the recovered Meth.
Arrest Made With 11 Pounds of Methamphetamine Recovered
Sheriff Gene Scarbrough announces that during the course of a multi-agency narcotics investigation between the Tift County Sheriff's Office, Mid-South Narcotics Task Force, Georgia Bureau of Investigation and the Drug Enforcement Administration, a major methamphetamine distributor has been arrested. The arrest stems from an investigation where law enforcement was able to determine that large amounts of methamphetamine were being shipped into the South Georgia Area.
On May 1, 2016 drug agents were able to intercept a shipment of approximately eleven pounds of methamphetamine on Highway 82 in Tift County that was being transported to Tift, Coffee and surrounding counties.
Arrested and charged with trafficking methamphetamine is 36 year old Eulalio Martinez, a non-resident of the United States.
Tift County Sheriff Gene Scarbrough and Coffee County Sheriff Doyle Wooten can't say enough about the total cooperation between their agencies, the GBI and the DEA, as they worked this case that led to the almost 11 pounds of methamphetamine being seized and the arrest of Martinez.
The investigation is still ongoing and more charges are likely. Other law enforcement agencies participating in this investigation were the Crisp County Sheriff's Office and the Turner County Sheriff's Office