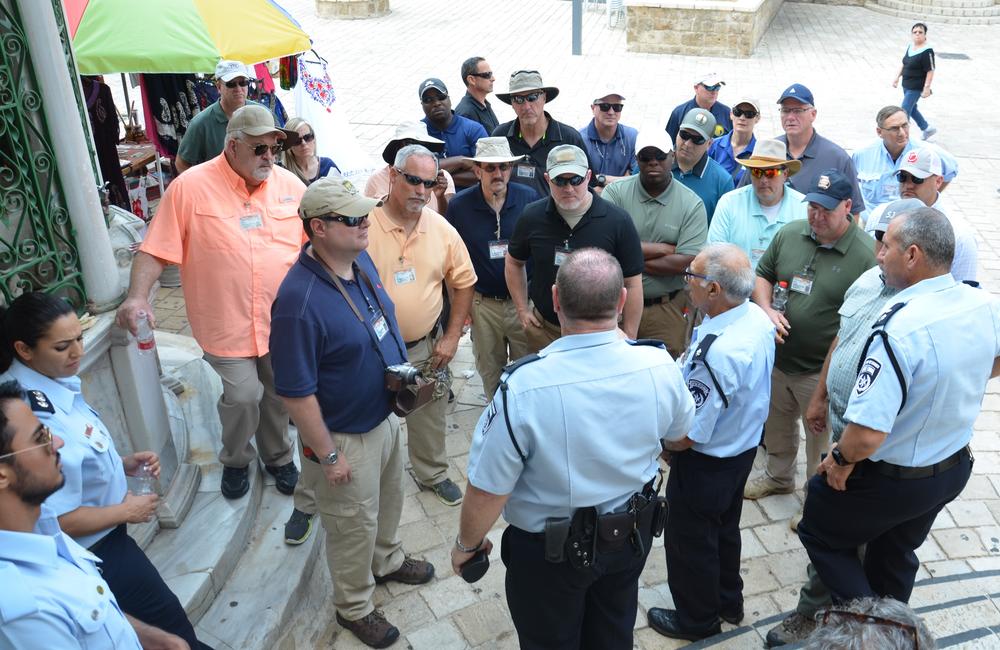 Sheriff Scarbrough Attends Police Leadership Training In Israel
ATLANTA—Sheriff Gene Scarbrough of the Tift County Sheriff's Office has returned after an intensive two weeks of public safety leadership training with Israel's top policing executives.
He joined police chiefs, sheriffs, and public safety commissioners and officials—and a senior corporate security manager—in a 21-member delegation of senior law enforcement officials from Georgia, Alabama and Tennessee who participated in the Georgia International Law Enforcement Exchange's (GILEE) 26th annual peer-to-peer training program in partnership with Israel. While there, they studied best practices and the latest advances in community policing, counterterrorism, emergency management, advanced technologies and homeland security policies.
"In GILEE's 26 years, our partnership with the world's top public safety experts has returned more than 720 public safety officials home with the knowledge and skills they need to keep our communities safer," said Robbie Friedmann, GILEE's founding director and professor emeritus at Georgia State University. "Among the program's many benefits, our delegates return home with a better understanding of effective ways to address modern policing challenges and increased communications and collaboration among different agencies, external organizations and the greater community."
This year's peer-to-peer training emphasized community policing, the textbook definition of which was developed by Friedmann while he was a Georgia State University professor: "Community policing is a policy and a strategy aimed at achieving more effective and efficient crime control, reduced fear of crime, improved quality of life, improved police services and police legitimacy, through a proactive reliance on community resources that seeks to change crime-causing conditions. It assumes a need for greater accountability of police, greater public share in decision-making and greater concern for civil rights and liberties."
"The phenomenal GILEE program makes us think outside the box, understand the importance of building and maintaining strong relationships and partnerships," said Rome Police Chief Denise Downer-McKinney, who participated in GILEE's 19th delegation to Israel. "It is critical that we continue to work diligently to forge and build public and private partnerships in our local communities and throughout Georgia. We must continue to develop and strengthen these relationships, along with our local business and community partners, to ensure our children and communities are safe, and that we have the tools to make this happen."
Founded in 1992, GILEE is a Georgia homeland security program. The organization works continuously to improve public safety by enhancing inter-agency cooperation, partnerships and professional educational training among the world's top law enforcement communities, most recently in Israel and Hungary. To date, it has offered more than 200 special briefings to more than 32,000 law enforcement officers, corporate security personnel and community leaders. GILEE has carried out more than 450 programs and produced more than 1,500 graduates.
GILEE is a research unit within Georgia State's Andrew Young School of Policy Studies, which U.S. News & World Report ranked among the nation's top 20 public affairs graduate schools this year. It operates in more than 25 countries and more than 25 states in the U.S.
"Our GILEE delegates have returned with new ways of developing, collaborating on and using police and intelligence strategies to minimize the production of crime," said Friedmann. "In GILEE's 26 years, many of these graduates have and are serving in key leadership roles in Georgia and beyond."
Learn more about the Georgia International Law Enforcement Exchange at gilee.org.