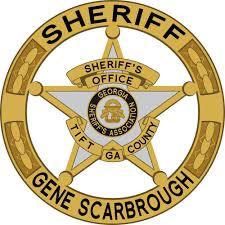 TCSO April Activity Report
Sheriff Gene Scarbrough reports the following activity for April 2018.
He said that deputies conducted 2,225 business and property checks, 839 Mobile Home Park and subdivision checks and 67 school checks and answered 2,727 calls for service.
He added that deputies served 169 warrants, 82 civil papers, and 160 subpoenas.
The sheriff said that deputies arrested 52 people, some on multiple charges. He said that 55 drug charges were filed, 42 parole / probation violation charges, 12 charges of failure to appear, 10 property crime charges, 7 crimes against person charges, 5 child support violation charges, 4 weapons charges, and 12 other non-traffic charges.
Scarbrough said that traffic stops lead to the filing of 11 charges of driving with revoked or suspended license, 3 charges of driving under the influence and 2 drug charges.
He said that deputies completed 505 reports, 34 accident reports, 631 citations, 126 traffic warnings and patrolled 58,122 miles and verified the home addresses of 65 registered sex offenders living in Tift County.
The sheriff said deputies handled 66 transports, totaling 206 hours and 7,537 miles.